Event for hikers, mountain climbers and camping enthusiasts.
On the organizers. The organizer of this event is the company "Happy Hiking". "Happy Hiking" was founded in 2006. The founder is Nick Howdy.
Nick – a man with a colossal experience in mountain rises and extreme tourism. For a long time Nick worked as a mountain guide, and before that he worked as a consultant in a sports shop. His passion for life he was vaccinated from childhood his parents – Mark and Hannah.
After 3 years of work as a consultant and 5 years as a conductor, Nick decided to found a company.
The number of his company now does not exceed 15 people, but the main goal for Nick himself is to get pleasure from the work of his employees, as he believes that this will significantly increase the quality of customer service, and as a result will leave his customers more satisfied.
Event will take 2 days. It will be divided into 3 stages: a lecture part, a hike, and the final part – contests.
Lecture part.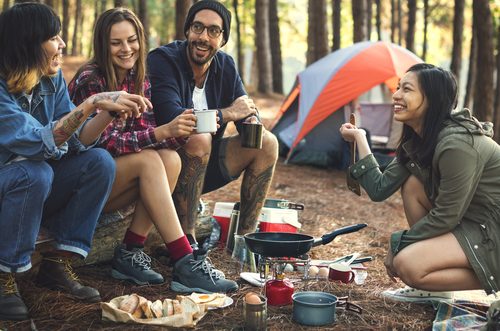 This is an introductory part of the event, which will be held basic training in safety precautions, checking the availability of necessary equipment before the campaign, the event plan. All participants who decided to become part of the event, we will issue identification tags.
Basic necessary equipment for trekking:
Awning;
Backpack;
Minimum first aid kit;
GPS-navigator;
Sleeping bag.
The rest of the equipment (plates, lanterns and so on) at will.
It is forbidden to take with you:
Alcohol;
Narcotic substances;
Animals.
The second part.
The trek will begin hiking in the mountains. The climb will be carried out to a small height – less than 3000 feet, since this height is achievable for 99% of people and does not cause tangible discomfort for the human body.
After reaching the required height, we will hold a photo session with a professional photographer (you can also use your camera at will). Then we'll go downstairs, where we will stop for a camping with an overnight stay, after which the next day we will move on to the 3rd stage.
The third part.
The drawing will be held between all participants of the event. Prize drawing – a trip to Austria for 1 person for a week. Participants will issue the identification tags received at the beginning, which will be randomly selected. Two more winners will receive gift certificates with a discount of 50% for a trip to our country when buying a tour in Happy Hiking.
Also, the company appreciates and welcomes the healthy lifestyle of children, so they are provided with free treats in the form of a variety of fruits and healthy drinks.
Conclusion
The purpose of such an event is to become closer to people, better understand different clients in order to improve the quality of the company's services. To grow, you need to better understand your audience, their expectations and needs.